Canique Climat

- Air temperature and humidity sensing

made for perfectionists

Monitor temperature and humidity: whether at home in your freezer, at a warehouse or in an hospital. Whenever storage conditions need to be monitored or recorded, Canique Climat will do the job for you.

Use cases can be:
Providing temperature/humidity data to the air conditioning system of a building
Monitoring storage conditions of medical products
Monitoring temperature and humidity of your wine cellar
Testing a refrigerator for correct functioning
Getting notified about left open doors/windows in winter months
As temperature sensors in hotel rooms, holiday homes or Airbnb apparments
As monitoring system in a green house where plants are automatically watered
In agriculture: e.g. in a barn
In outdoor applications: for climate studies
Telepathique:
400-800m Range
Preliminary tests have shown that the open field range between Canique Climat and Canique Gateway is between 400 and 800 meters using the 868MHz band using a max. transmission power of +13dBm.
Just for the sake of comparison: Corona Virus only achieves 2 meters.
Économique:
5+ years battery lifetime
One single 2500 mAh AA sized battery can power Canique Climat for over 5 years at room temperature while measuring and sending temperature and humidity data every 30 seconds via a Sub GHz wireless connection.
Duracell rabbits hate us for this reason.
Pratique:
Canique Cockpit for Android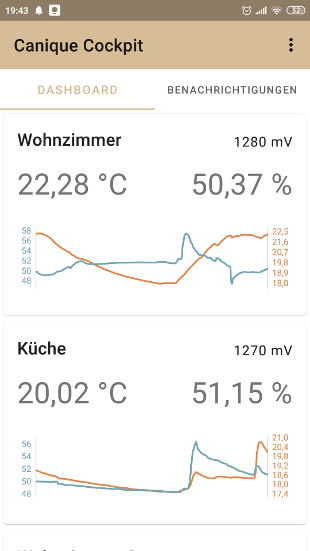 All measurements are visualized in an Android App.
You see when tea was brewed in the kitchen.
You see when the heating went on.
You see when the door of the cold storage room was open for too long.
You can get notified when critical thresholds are reached.
Pratique²:
Canique Web Cockpit
Access your data from any webbrowser, from any device: be it Smartphone, Tablet or PC. Please note that the Web Cockpit will not support Push notifications to iOS devices since iOS does not support this function yet.
Pratique³:
API access via MQTT protocol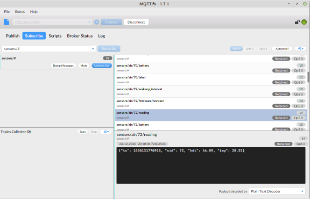 You can access all measurements in real time by connecting to your Canique Gateway using the open MQTT protocol. You don't even need an Internet connection to do this. You can implement business logic or automation based on temperature and humidity data. Python code samples to easily connect to the Canique Gateway and instantly access measurement data will be released on Github in 2021.
Chronologique:
12 months measurement history
You can fetch old measurements from your Canique Gateway with a simple HTTP API call. The data is available locally on your gateway.
Cryptographique:
256 Bit Security
Canique Climat encrypts data with a symmetric 256 bit AEAD cipher before sending it. The cipher used is state of the art: Chacha20-Poly1305. This way you can always be sure that the data has not been tampered with, is authentic and has not been decrypted by some other party. Furthermore there are countermeasures implemented against replay attacks.
Stay in
control

of your data

Want to keep your data local? You can connect to your Canique gateway over your local network without having an internet connection. If you want to have your data always accessible, your gateway can synchronize measurements with the Canique Cloud.
It's your decision. You stay in control of your data.
± 0.2°C accuracy
Humidity is measured with a typical absolute precision of ± 1.8%.
Temperature is measured with a typical absolute precision of ± 0.2°C.
Not enough? We offer even better sensors on request.
± 1mV battery status
Battery status is measured with ± 1mV precision every hour. You know when the battery voltage gets critical even before the battery knows it.
Price & Where to buy
Release date is in the middle or at the end of 2021.
Price will be ~40€ for Canique Climat, and ~80-100€ for Canique Gateway.
Datasheet
Power consumption in sleep: 9.3µA @ 1.25V
Min. battery voltage to startup: 1V
Min. battery voltage to operate: 0.8V
Temperature range: -40°C to 85°C (higher max. temperature possible on request)
Humidity range: 0% to 100%
Temperature/Humidity resolution: 0.01°C / 0.01%
Absolute accuracy from 0 to 60°C: ± 0.2°C
Absolute accuracy @ 80°C: ± 0.3°C
Absolute accuracy @ -20°C: ± 0.4°C
Absolute accuracy @ -40°C: ± 0.6°C
Min./Max. transmission power: -18dBm / +13dBm
Transmission speed: 19.2kbps
MCU: ARM Cortex-M0+
Contact form for inquiries